The Detroit Mercy library has a subscription to the Medcom Trainex streaming video collection. This is a collection of over 241 nursing videos that include a wide array of subjects such as assessment how-to's, trach care, anatomy and physiology of all the body systems, cultural awareness, EKG interpretation, and much, much more. The videos are grouped into 17 course categories like Basic Clinical Skills or Airway Management. Alternatively, you can browse the entire list of videos by clicking on the Video Courses link on the left after you have signed in.
Best of all you don't have to come into the library to watch any of these videos; they are streamed using Flash, Windows Media Player, QuickTime, or Real Time. The collection requires users to set up a free account where you choose your User ID and password. To do this, just click the Create A New Account link on the main page.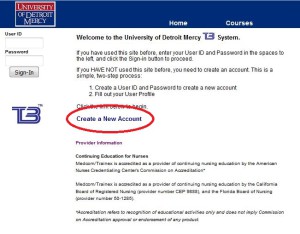 Questions? Contact me or one of the other librarians!
Jill